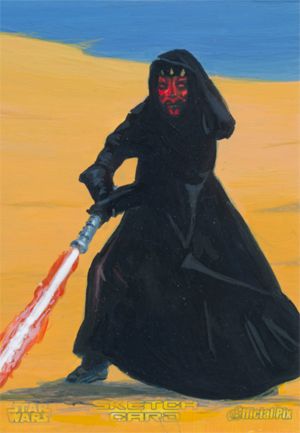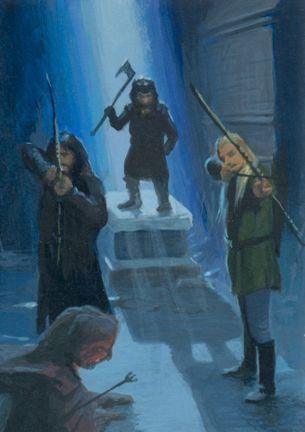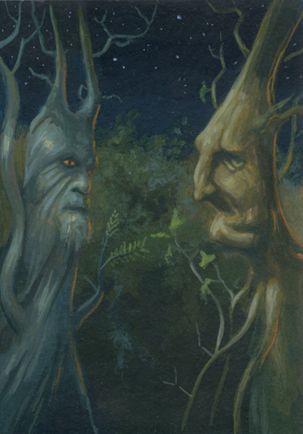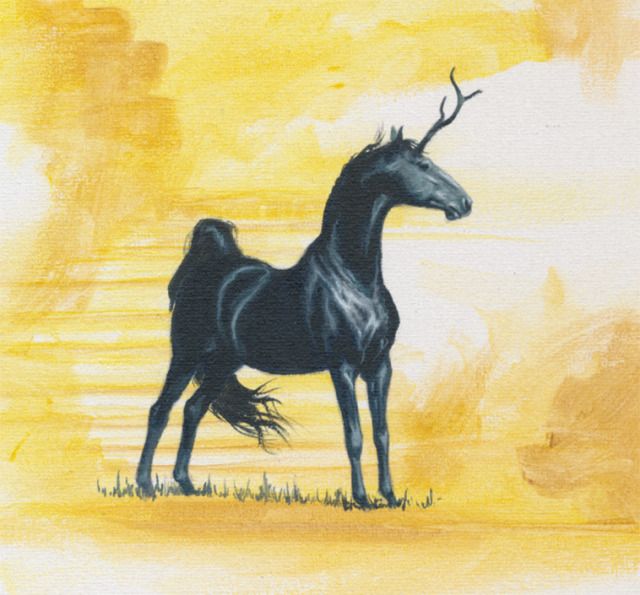 (apologies if the images are too big?)
My name is Ingrid Hardy (or Ingrid K. V. Hardy, because there are others with my name), and I am an Illustrator who has worked since 1990 creating drawings, paintings and portraits of every kind (landscapes, animals, people, plants...). My main website has examples of all kinds, if you wish to take a look:
www.rabidhorse.com
... Links to most of the places I frequent on the internet are there as well: Deviant, Facebook, Goodreads, etc. I also freelance for a monthly equine magazine, creating digital illustrations, based in Montreal, Quebec, as well numerous official sketch card sets (listed below), and several book covers.I also do commissions, whether they be sketch card size or somewhat larger. I have had hundreds of clients over the past number of years... Perhaps it is best if that number of years was kept under wraps... :-)
I have many different projects - both on my own and company-commissioned - that are on deck for the year of 2013. At present, I have been accepting personal commissions, and some of those are above. My commission list is currently on hold until I'm done with what I have, and will be open again probably in February 2013 or so.
Below are some of the sketch card sets and companies I've worked for, in no particular order:
New in 2012 -
Profession member of the Association of Illustrators of Québec (Illustration Québec - AIIQ)
Topps Entertainment Trading Cards:
Star Wars 30th Anniversary
Heroes Volume 1
Heroes Volume 2
Lord of the Rings Masterpieces II
Indiana Jones Heritage
Indiana Jones and the Kingdom of the Crystal Skull
Indiana Jones Masterpieces
SW: The Empire Strikes Back 30th Anniversary
SW: The Rise of the Bounty Hunters
Baseball Series I - 2009
Star Wars Clone Wars
Star Wars Galaxy 4
Star Wars Galaxy 5
Star Wars Galaxy 6
Star Wars Galaxy 7 -
and one Base card: card #28
(printed original artwork)
Mars Attacks Heritage

Inkworks:
Alien vs Predator: Requiem

Strictly Ink:
CSI: Miami
CSI: New York
CSI
The Art of Ray Harryhausen
Dr. Who Big Screen
Hammer Horror
Dr. Who Big Screen Additions - Mono Version

Sadlittles / Sketch Card Studio:
Legends and Lore
Essence of Fairyland - Basecard Artwork
Dreamers of Darkness - Basecard Artwork and 20 pack cards

Airship 27 Productions (Pulp Book Publishing):
Lucien: Dark God's Homecoming written by Van Allen Plexico - Cover and interior illustrations
Sherlock Holmes Consulting Detective - Cover Illustration
MYSTERY MEN (& Women) Vol One - Cover Illustration
Black Bat Mystery - Cover Illustration

iCardz Trading Cards:
America at War - Band of Brothers sketch cards

Breygent Marketing:
Woodstock Generation: Rock Poster Cards
Warlord of Mars
Grimm - The TV show
Versicolor Productions:
The Bettie Page Private Collection - Base Card illustration and 5 pack cards

Axebone Productions:
Treasure Chests and Booty - Base Card Illustration and 25 pack cards
Dungeon Dolls - Base Card Illustration and 25 pack cards

Cryptozoic Entertainment:
25 Liberty sketch cards
Walking Dead - 12 sketch cards total.
Walking Dead 2 - 20 total sketch cards
Perna Studios:
Classic Mythology
To Be Announced
To Be Announced
Ken Galan
Contemporary Pinups - Base card artwork and pack cards

Fédération Équestre du Québec:
Digital and/or hand drawn illustrations for their monthly magazine (freelance basis since 1990) Ongoing

Québec à Cheval:
50 illustrations for an instruction manual

Éditions Actes Sud - France (www.actes-sud.fr):
Illustrations for "Manuel d'Équitation Western - un plaisir partagé"

Unstoppable Cards Limited:
Avengers 50th Anniversary - 30 sketch cards (summer 2012)
Contact:

ingridhardy32@gmail.com
ingrid.hardy.1@sympatico.ca